The Venetian Festival, out on the water
St. Joseph, MI - While many of the visitors to the Venetian Festival stay on dry land, several avid boaters take a different look at the festival, from the waters of Lake Michigan.

The Venetian Festival attracts thousands every year and it's no wonder why. There is food, festivities, rides and the water.

"We enjoy it every year, you have to enjoy it to be here," said Grover Loggains.

Grover enjoys the St. Joseph Venetian Festival so much, he claims he hasn't missed a year since the event started 27 years ago.

"We meet a lot of people out here naturally living in the area. It's breathtaking when we get out here in the water and we get to see the opposite side of it," said Grover.
more...
---
"Miss DYC" Flips in Gold Cup Final
DETROIT, July 17, 2005 – The Detroit Yacht Club's U-2 unlimited hydroplane "Miss DYC" flipped going into the first turn during the Chrysler Jeep Superstores Detroit APBA Gold Cup final race.
"Miss DYC" driver J. Michael Kelly had a good position in lane one, but went high off the Roostertail of "Miss E-lam." The boat launched vertically into the air and landed upside down. Kelly exited the boat through the escape hatch on the hull under his own power. Early reports indicate that he is okay.
---
Future of lakes topic of meeting
PETOSKEY - Those concerned with the future of the Great Lakes may want to mark Thursday on their calendars.
The Tip of the Mitt Watershed Council, the National Wildlife Federation, Alliance for the Great Lakes and Great Lakes United will host a meeting at 7 p.m. Thursday at the North Central Michigan College Library Conference Center to discuss the future of the Great Lakes. more...
---
Boat collision injures two
BEULAH -- Two men were injured when a pair of pleasure boats collided early Saturday in Lake Michigan, Benzie County sheriff's deputies said.
The boats crashed in the dark shortly after 5 a.m., about three-quarters of a mile north of the pier between Frankfort and Point Benzie, deputies said.
A 16-foot Glassport boat carrying three men from Boon was struck from behind by a 20-foot Four Winns boat based in Traverse City, said Marine deputy Bruce Harwood. The collision crushed the port side of the smaller boat, throwing one of its passengers into the lake, Harwood said. more...
---
WORRIES ON THE WATER: Toxic troubles tarnish posh Bay Harbor area
BAY HARBOR -- Just 12 years ago, this playground for the ultra-rich was littered with rusting machinery strewn across hundreds of acres of bleached-white wasteland dotted by defunct cement plant buildings and limestone quarries.
That was before a developer's grit and vision led to a fairy-tale transformation.
Yachts from international ports now glide across the pastel of Little Traverse Bay, easing past $5-million waterfront mansions. Big shooters now fly in, play 27 holes on nationally acclaimed golf courses, then zip home on Lear jets. And children now learn to ride at summer pony camp while their parents attend calf-roping clinics.
The makeover of the moonscape into a resort the Wall Street Journal called a "magnet for the world's magnates" was stunning. more...
---
Northstar 69, electronics easter egg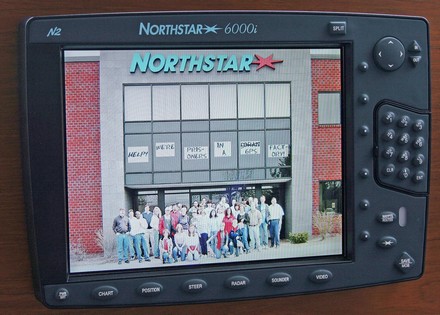 I knew about "Easter Eggs"—little jokes or animations hidden behind odd key combinations in PC software, particularly games—but I just learned last week about pushing star69 on a Northstar. Apparently back in the Loran days, the key combo would display the message, "Help we're prisoners in a Loran factory." more...
---
Where are the moose?
It was an a-ha moment.
After a lengthy day hiking on Isle Royale National Park, it was my responsibility to walk down a steep hill, using a brushy trail, to fetch water for our meal.
Toting a two-quart pan and the clothes on my back, I found myself at the edge of a pristine, although very chilly, lake.
Only paying attention to my assignment, I hear what sounds like the Loch Ness monster surfacing for a breath of air. Looking to the right, there he was. A large bull moose about 20 feet away.
A-HA!
This 1,000-pound hairy brute bore no semblance to a monster,although I was quite startled and becoming nervous, realizing all I had to defend myself was this really old aluminum pot. more...
---
Family hires divers to continue search for missing man.
HOLLAND, Mich. A local diver plans to organize up to nine teams today to search for a boater missing for over a week.
The diver was hired by the family of 42-year-old Mike Scaffidi of Wisconsin.
Scaffidi went missing after a power boat he rode in capsized last weekend on Lake Michigan offshore from Holland. He is presumed dead. more...
---
Air is hot, but water remains frigid
HOLLAND -- With temperatures hovering near 90 degrees, thousands have flocked to the big lake for relief.
But the traditional toe test of Lake Michigan's lapping waves has sent some swimmers scampering back to their beach chairs and towels.
Beachgoers expecting Lake Michigan to feel like bath water with the recent steamy air temperatures have been shocked to find frigid, 40-some degree water that only a penguin would like -- and a handful of fearless children, of course.
Have heart, though, National Weather Service officials say. more...
---
Dry weather helping keep bacteria levels low at beaches
Lake Erie beach lovers have a bonus reason besides abundant sunshine to give thanks for a hot summer.
This season's general dryness also has aided in keeping the area's beaches generally free of health-threatening E. coli bacteria.
E. coli can produce nausea, vomiting and diarrhea and is typically associated with human waste.
Heavy surf or strong storms that discharge untreated waste into the lake are chiefly responsible for high bacteria counts.
People who are most at risk are the very young, the elderly, people whose immune systems are compromised and people with certain other health conditions.
Whenever the bacteria count reaches at least 126, there is a possible human health risk, and the Ohio Department of Health will recommend that an advisory against swimming be posted. more...
---
Does Your Water Taste Funny? Here's Why!
TOLEDO -- Have you noticed that your drinking water in Toledo doesn't taste as good as it normally does? You can blame algae.
Blue-green algae is now blooming in Lake Erie, triggered by the long dry spell followed by our recent storms. A News 11 crew shot video of the algae in the water by Anchor Point Marina, but you can see it several other places by the water.
The City of Toledo Water Treatment plant has intake pipes not far from that marina. The director of the Department of Public Utilities tells News 11 the drinking water is not harmful. They're now adding more carbon and adjusting chemicals to correct the taste. more...
---
let's build a boat
There is nothing — absolutely nothing — half so much worth doing as simply messing about in boats. — Water Rat
The Water Rat from the Kenneth Grahame's novel "The Wind in the Willows" would have liked to be in Grand Marais a few weekends ago.
That's because the town's North House Folk School recently held its annual festival devoted to messing about in boats, wooden boats to be exact.
The school's Wooden Boat Show and Summer Solstice Festival, now in its eighth year, has become the biggest annual event at the North Shore organization devoted to teaching traditional skills and crafts. more...
---